Weekly Press Review -- 3/17
Domestic PCs kick import butt; Compaq, Kodak, and MediaRing follow Microsoft wake with more China Net deals; Legend emerging as key player?....
03/17 Matrix East -- Domestic PC companies such as Legend and Great Wall appear to have gained much ground at the expense of global heavyweights IBM, Compaq and Dell. -- As the dust settled from Bill Gates' whirlwind tour through Greater China, a handful of other western companies announced China Internet deals.
click to continue
© Kenneth Neil Farrall 1999
China Net Market Size & Demographics
China Net Dynamic Briefing #1, Market Size & Demographics, Version 2.0, is now available to new subscribers. For details see the D-Briefing introduction page.
The China Matrix Perspective

The Year of the Rabbit promises to be a pivotal, watershed time likely to shape China's wired destiny well into the 21st century. The path taken will largely be driven by the interplay of two opposing political mind sets: one that sees the Internet and related networking technologies as vital to the long term health of the nation's economy, and another that views the Internet and its associated domain, cyberspace, as an unparalleled threat to state security. Join us for a special edition of the China Matrix Perspective, as Matrix East president Kenneth Farrall answers the question "Whither the China Net?"
| | |
| --- | --- |
| Corporate Sponsor | Register |
| | Register with The China Matrix and get free weekly e-mail updates with the latest news and analysis. |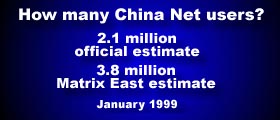 What is the China Matrix?

Known web wide since 1995, The China Matrix is a comprehensive source of information and commentary about the past, present, and future of China's Internet.

The China Matrix was conceived, researched, designed, and is continually updated by Kenneth Neil Farrall as a public service.

Currently, The China Matrix provides four major areas of service focusing on the China Internet market: news (archive and review), analytical perspective, China Internet background information, and directory services. Matrix East, the sponsor of this site, offers project-based advisory services to companies worldwide interested in the Greater China Internet market.

The China Matrix is called "essential" by Hanno Lecher of the WWW Virtual Library for China Studies, is part of Sintercom's Best of Asia Pacific Hall of Fame, and is approved by Argus Clearinghouse.

terms of use